Welcome to Ram Meenakshisundaram's Transputer Home Page
"…sequential computers are approaching a fundamental physical
limit on their potential power. Such a limit is the speed of light…"

Sundance HPT11 Serial I/O TRAM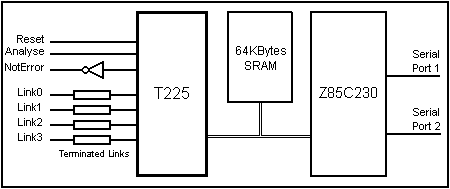 Size 1 serial I/O TRAM
1MBaud capability
Two independent serial ports
Local 16-bit T225 processor
HW support for SDLC, HDLC
Two independent, high performance serial ports with optional modem control on a size 1 TRAM provide the ultimate solution for the systems integrator. Data transfer rates of 1MBaud in synchronous or asynchronous mode are achievable with independent transmit/receive clocks and hardware flow control. The local 16-bit processor and 64kbyte SRAM ensure optimal performance is achieved at reasonable cost. Software support for C, occam and Helios.
---
This page is copyright ©1995, Sundance Multiprocessor Technology Ltd.