Welcome to Ram Meenakshisundaram's Transputer Home Page
"…sequential computers are approaching a fundamental physical
limit on their potential power. Such a limit is the speed of light…"

Sundance SMT104 PCMCIA Transputer/PC link interface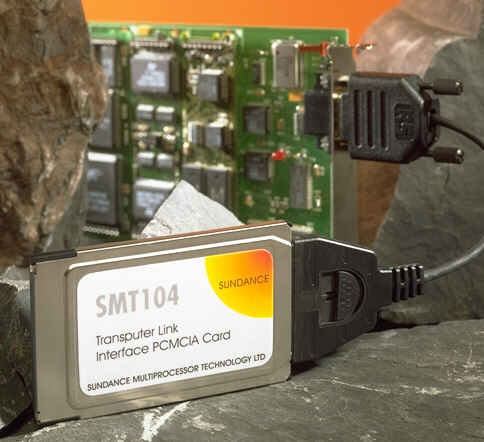 Transputer Link Adapter PCMCIA card
IMSB004 compatible interface using IMSC011
Type II PCMCIA enclosure
Software configuration utility

I/O address
Link speed
Enable interrupts

Differential link RS422 or TTL connections
Typical operating current of 110mA
Compatible with most transputer development tools
20 or 10MBit/sec link speed
Full support for Reset, Analyze and Error signals.
Hosting transputer systems from notebook PCs
Remote hardware and software development
Long distance communication using differentially driven links
The SMT104 PCMCIA transputer link adapter card contains a single B004 compatible interface. This interface is compatible with most transputer development tools currently available. The module offers differentially driven links, facilitating reliable link communications over several meters. Compatibility with TTL transputer links is achieved by using the + signal. In this case, link cables should not exceed one meter.
---
This page is copyright ©1995, Sundance Multiprocessor Technology Ltd.