Welcome to Ram Meenakshisundaram's Transputer Home Page
"…sequential computers are approaching a fundamental physical
limit on their potential power. Such a limit is the speed of light…"

Azure AVT202 Color Image Processor

8 bit Mono to 24 bit True Colour imaging
2 RGB or 6 mono camera input
Four VRAM frames of 512 x 512 pixels
Four VRAM colour graphics overlays
Square and 4:3 aspect ratio pixels
Individual pixel capture control
4 Mbytes DRAM
Inmos T400, T425, T805 processors
8 bit Digital Input and Output ports
Windows Discovery program
Software library of interface routines
'Framework' source programs for speedy development
Easy implementation for stand alone operation
The versatility built into the AVT202 makes it ideal for a wide range of applications. Applications that the AVT202 has been used with include:
Machine Vision
Robotics
Measurement
Component Inspection
Medical Imaging
Security Surveillance Systems
Thermal Imaging .
The AVT202 color image processing board combines Azure's proven vision experience with the cost sensitive needs of the PC user. The board plugs directly into a standard ISA slot to provide real-time full colour image processing.
The AVT202 also can meet the demands of the machine-vision community by operating in a stand-alone configuration without a PC.
To assist these applications, the AVT202 contains simple logic to interface to industrial controllers enabling the AVT202 to become a 'non-contact vision sensor' fully integrated into standard control systems.
When choosing an AVT202 there are three processor options and two memory configurations.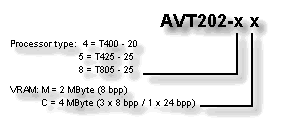 In addition to the board options, a variety of cables are also available.
AV-ICM: Mono BNC(m) to 9 pin D
AV-ICC: RGB BNC(m) to 9 pin D
AV-DCC: RGB 15 pin D to BNC(m)
AV-HCB: Video Header to BNC(m)
AV-HIO: I/O port header to 25 way D(f)
---
This page is copyright ©2000, Azure Ltd.