Welcome to Ram Meenakshisundaram's Transputer Home Page
"…sequential computers are approaching a fundamental physical
limit on their potential power. Such a limit is the speed of light…"

Alpha Data ADH-HTRAM module with T9000 and Alpha AXP processors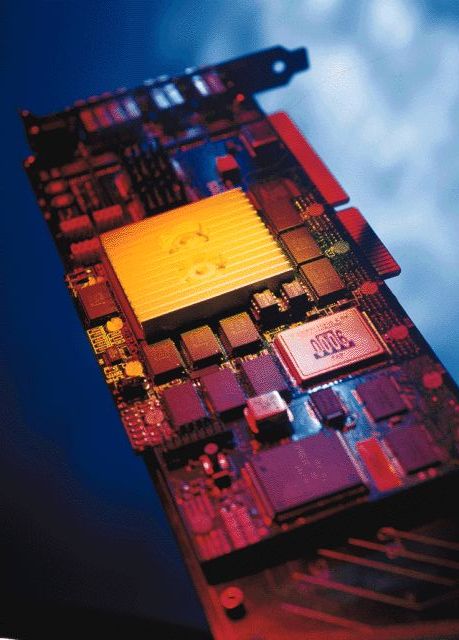 Size 4 Alpha HTRAM module
64 bit Alpha AXP RISC processor running at 233MHZ with 16MB DRAM and 1MB Secondary Cache
T9000 running at 25MHz
4 bi-directional DS links at 100Mb/sec
PCI interface between Alpha and the T9000 (PCI rate up to 132MB/sec)
Configurable from T9000 network
Seamless integration to AD66 and T9 network
Optional C104 routing board giving 8 DS links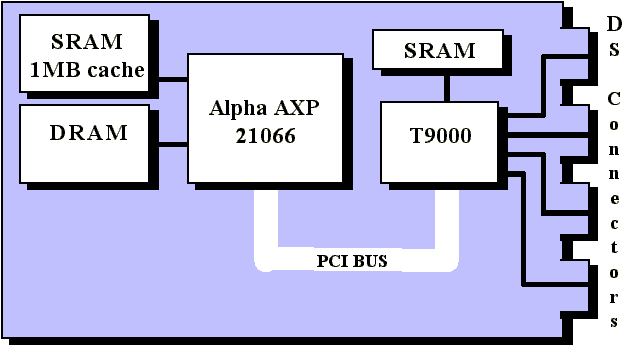 The ADH-HTRAM is a size 4 HTRAM module including both an Alpha AXP and a T9000 processor. The two processors are interfaced over the on-board PCI bus for maximum inter-processor communication bandwidth. This compact unit offers superb processing performance along with access to T9000 link technology, making it a powerful building block for a parallel processing system. This module enhances existing T9000 systems with the huge floating point power of Alpha processors. Parallel compilers for the ADH-HTRAM are available from 3L.
Processor
DEC Alpha 21066 fully-pipelined 64-bit RISC architecture

233MHz (466 mips, 233MFLOPS) using dual instruction issue
IEEE and VAX-compatible floating point
High bandwidth 64-bit memory controller
Memory management
8k on-chip data and instruction caches
Secondary cache controller
Asynchronous PCI I/O controller
Intel compatible PCI bus

INMOS T9000

Running at 25MHz
Supporting Virtual Channel Routing (VCR)
Includes 4 DS links based on the IEEE P1355 standard

Memory
DEC Alpha

8MB to 32MB of 70ns DRAM
256K to 1MB 15ns external cache SRAM

INMOS T9000

Host interface
Connected to an HTRAM carrier board
Software
3L Parallel C/AXP compiler with parallel network support

(including DEC GEM compiler).
IPLib and fast maths libraries

INMOS T9000 toolset for the T9000

Warranty
12 months from date of invoice
---
This page is copyright ©1999 Alpha Data Parallel Systems Ltd